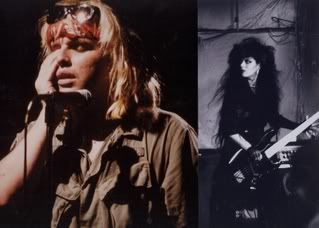 photos (C)1981 Heather Harris
Gun Club's Jeffrey Lee Pierce and Patricia Morrison, legendary Los Angeles punk icons

.
Jeffrey Lee Pierce, although a magpie of musical styles, ended up sui generis. He could care less what other punks were doing, he was gonna reference voodoo swamp chants, slide Delta Blues, Appalachian folk and bebop jazz in his screaming punk gumbo years before
the Black Crowes woke up to the same roots.
His band Gun Club spanned a decade and a half, two coasts and four continents worth of assorted band configurations. His wailing voice, slightly flat but passionate as all get out, was unmistakable from any other soul in the occasionally samey world of punk and post-punk. He was fearless onstage. And frequently really, really drunk.
East Coast publications compared his lyrics to T.S. Eliot in their spare imagery, which figured since Pierce reputedly was well read and literate. Murder ballads and modern allusions to the fire of love abounded in Gun Club songs. On the West Coast, people would have scratched their spikey-do heads in wonder at this assessment, since the man in person was an out of control alcoholic. He suffered the inevitable fate of those devoid of interventions, and died in 1996.
Patricia Morrison! Wowza! Bow down in unworthiness to the True Queen of the Goths! As early as mid-1970's, Patricia had already perfected this exact look depicted (here in motion in my top photo as if she were a Gainsborough painting heroine on the windy English moors) with her real hair, not extensions. She's been bass player
extraordinaire to The Bags, Gun Club, The Sisters of Mercy, and The Damned, actually wedding singer Dave Vanian of the last cadre of punk Goths. (Together they hatched a little ghoul, and she's temporarily retired.)
In the earliest interviews with Cassandra Peterson, she admitted she "borrowed" her Elvira look from a fellow Los Angelean, a female musician. That rather obviously would be our Patricia
.












Check out Kurt Voss' documentary "Ghost on the Highway" about Gun Club for the insiders' assessments of its career arc, plus innumerable Youtubes like: